November is Awareness Month for lung cancer, pancreatic and stomach cancers, but it's also a time to recognize caregivers – family and friends who provide invaluable physical and emotional support to help cancer patients through their treatment on a day-to-day basis. It's particularly appropriate this year, when patients and caregivers face the challenges of cancer and COVID-19, with the added pressure of the upcoming holidays.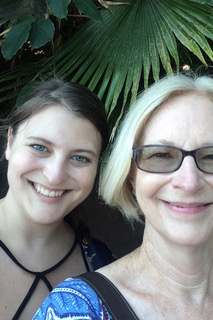 Typically, caregivers are adult children caring for parents, but for Cassie and her mother Jackie, the roles were reversed. When Cassie, a young executive at a Minneapolis public relations firm, was diagnosed with breast cancer, her mother moved up from Mississippi to care for Cassie for six months during her surgery, chemo and treatment at Minneapolis Radiation Oncology. "I'm retired, so it was easier for me to do this than it is for many people," Jackie noted.
For both of them, the caregiving experience became an opportunity to discover new dimensions to the mother/daughter relationship.
"I found my role changing," said Jackie. "As a mother, you always want to make things right for your child, but dealing with cancer, you don't have any 'Mommy Super-Powers' to make it go away. I became more of a companion and helper."
For Cassie too, there was a difference in the relationship. "This is the first time we've lived together since I was 17," Cassie says," I'm not 'the child' anymore, I'm an adult."
Although she's quick to point out that her radiation treatment team at MRO couldn't have been more compassionate – the threat of COVID-19 added to the fear and loneliness that a cancer diagnosis causes.
"Knowing my mom was in the car waiting for me during my daily treatments, sharing my feelings of isolation, brought us closer."
As a caregiver, Jackie also dealt with feelings of isolation, being far from her husband, her home, friends, and her own life in Mississippi. And while Cassie was receiving treatment, Jackie had to sit alone in the car, unable to hold her daughter's hand.
For mother and daughter, cancer and COVID will make the holiday celebrations different this year. Jackie's Thanksgiving in Mississippi will simply be her and her husband. But Cassie is planning a unique – small scale – celebration with the help of two friends. "They've offered to quarantine themselves before we get together, then we're going to have takeout Thanksgiving dinner."
(NOTE: On November 10, Minnesota Governor Tim Walz announced that group gatherings will be limited to 10 people, indoors and outdoors, from no more than three households, along with other restrictions for Minnesota residents.)
For the Holidays, Cassie is planning to fly down to Mississippi, but she and her family will be taking precautions. She'll wear a mask and take a direct flight, to minimize contact with other travelers. And she's taking enough time off to be able to quarantine with her family once she arrives. "The direct flight means a three-hour drive from the airport, but it's the best way," Jackie points out.
Dr. Dan Wattson, Cassie's radiation oncologist at the MRO Fairview Southdale Therapy Center, adds that flexibility is a key to holiday celebrations.
"Because of the pandemic, this is a time when cancer patients, families, and friends will have to make significant changes to their traditional holiday plans. You have to give yourself permission to make gatherings smaller and less frequent."
Grace, patience, and forgiveness smooth the way for a stronger patient/caregiver relationship, especially during the holidays. Jackie says, "You have to give each other some space." For patients, Cassie suggests, "Be clear and open with your boundaries and your limits."
For all of us, this particular November is an important time to reflect for a moment and give thanks for all the people – family, friends, and medical professionals – who provide daily care and support to help others in their fight against cancer.
Stay-at-home tips for caregivers during COVID.
In addition to wearing a mask and frequent hand-washing, you should:
Stock up a two-week to 30-day supply of medications and supplies, including over-the-counter medications.
Wipe down all frequently-touched surfaces throughout your home with disinfectant.
Keep your own towels, dishes and personal items separated from others' in the house, to reduce your risk of exposure.
Use delivery services for supplies or groceries, or if you just don't feel like cooking.