At the MRO Unity Radiation Therapy Center, radiation oncologist Dr. Jenna Borkenhagen will take over the position of Dr. Jeffery Herman, who is retiring. She remarked, "Dr. Herman helped establish the Unity clinic in 1992, and over the years, built a great practice; it's a privilege to inherit this tradition of thoughtful, high-quality care. I'll certainly miss my patients and colleagues at MRO St. Francis, but I'm looking forward to collaborating with new colleagues and offering on-premises patient access to technologies such as stereotactic radiosurgery (SRS) and radiopharmaceuticals."
Dr. Borkenhagen treats all types of adult cancer, but there is one type in which she has a personal interest: prostate cancer. Her passion for the treatment of this disease is inspired in part by her uncle, a native of Blaine, who battled it for several decades before succumbing to disease in 2016.
Prostate cancer is the one of most common cancers in men, second only to skin cancer. With early detection, the cure rate is over 90%, but the disease still kills over five hundred men in Minnesota each year – more than the yearly totals for traffic deaths in the state.
"Prostate cancer doesn't always get the attention it deserves," Dr. Borkenhagen explains. It's often thought of as an old man's disease, but it can strike men at almost any age, and early detection is critical to successful treatment. Dr. Borkenhagen emphasizes, "The two most important things are for all healthy men to have regular PSA (prostate-specific antigen) tests and access to care."  The latter can be a big issue especially for Black men, who have a higher incidence of the disease. Currently, Medicare provides coverage for an annual PSA test for all Medicare-eligible men age 50 and older. Many private insurers cover PSA screening as well.
Why are Black men more susceptible to prostate cancer?
A study by the University of Michigan published in 2019 found that the reasons Black men have a higher disease and mortality rate are not genetic, but socioeconomic. Black men don't appear to intrinsically or biologically harbor more aggressive prostate cancer. But they generally get fewer PSA screenings, and so are more likely to be diagnosed with later stage cancer, are less likely to have health insurance, and have less access to high-quality care.
There are two common prostate screening tests. During a digital rectal exam (DRE) your doctor inserts a gloved, lubricated finger into the rectum to examine your prostate. If there are any abnormalities in the texture, shape or size of the gland, you may need further tests.  A prostate-specific antigen (PSA) test is based on a blood sample. It's normal for a small amount of PSA to be in your bloodstream, but higher levels may indicate problems.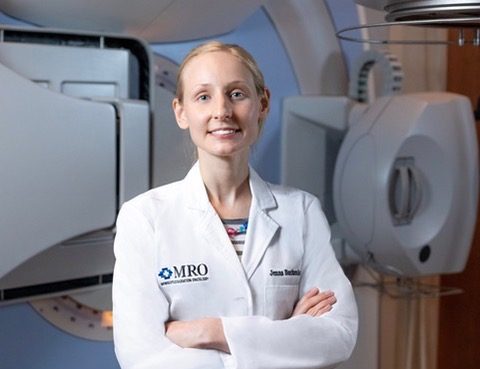 Dr. Borkenhagen notes that recent advances in imaging technology, such prostate cancer-specific positron emission tomography (PET) scans – specifically Axumin and PSMA (prostate-specific membrane antigen)– are making it easier to get the full picture of the disease and appropriately treat more aggressive forms.  These special PET scans can locate metastases throughout the body. If your care team suspects your cancer may have spread beyond your prostate, they may recommend a bone scan, computerized tomography (CT) scan, magnetic resonance imaging (MRI) or a PET scan. Axumin and PSMA PET scans are not yet widely available, but axumin PET has recently become available on the Mercy campus.  Dr. Borkenhagen is pleased to be able to order these scans at a convenient location for patients.
For patients diagnosed with localized prostate cancer warranting treatment, surgery and radiotherapy are the two main treatment options.  Radiation therapy uses high-powered energy to kill cancer cells. For localized prostate cancer, there are two radiation therapy treatments that Dr. Borkenhagen and her colleagues use most often. External beam radiation comes from a machine called a linear accelerator that moves around your body, directing high-powered energy beams at your prostate cancer. Treatments are usually five days a week for several weeks. Brachytherapy involves placing rice-sized radioactive "seeds" into your prostate tissue. The seeds deliver a measured dose of radiation over a period of time.
All men are at risk for prostate cancer, especially as they age.  In order to potentially decrease risk of developing prostate cancer, and many other cancers head to toe, men can get regular exercise, maintain a healthy weight and follow a healthy diet, and avoid tobacco. The 2020 American Cancer Society Guideline on Diet and Physical Activity for Cancer Prevention recommends it's best to avoid alcohol altogether. But men who choose to drink should limit themselves to 2 drinks per day.
In the long term, Dr. Borkenhagen anticipates a future where treatment and technology advancements will allow the majority of metastatic prostate cancer to be managed like a chronic disease, providing a longer, better quality of life for patients.  In the meantime, she looks forward to meeting patients at her new MRO Unity location. "I really enjoy working with the patients. We get to know each other over the course of treatment. That's what I like best."
ZERO Prostate Run/Walk
Look for Dr. Jenna Borkenhagen and other MRO doctors and care team specialists at the ZERO Prostate Run/Walk, Saturday, September 11, at Lake Nokomis Park.