Featured Event
American Brain Tumor Association Sponsorship
MRO SPONSORS BREAKTHROUGH FOR CANCER BT5K 2018 RUN & WALK TWIN CITIES – SATURDAY, OCTOBER 13, 2018
Minneapolis Radiation Oncology (MRO), the Twin Cities' leading provider of radiation treatment for cancer, is a proud sponsor of the BT5K 2018 Twin Cities Run & Walk on Saturday, October 13, 2018, at Lake Como in St. Paul, MN.
MRO and the American Brain Tumor Association (ABTA) are teaming up to fight brain tumors by raising awareness. The Twin Cities is one of nine U.S. markets with thousands of participants raising funds and awareness for treatment and research for brain tumors. According to the ABTA, more than 700,000 patients are currently seeking treatment for brain tumors.
Everyone is welcome to participate and help support brain cancer research, programs, and outreach.
BT5K 2018: Twin Cities Run & Walk | REGISTER
October 13 | 9:00 Check in
Lake Como
1199 Midway Parkway
St. Paul, Minnesota 55103R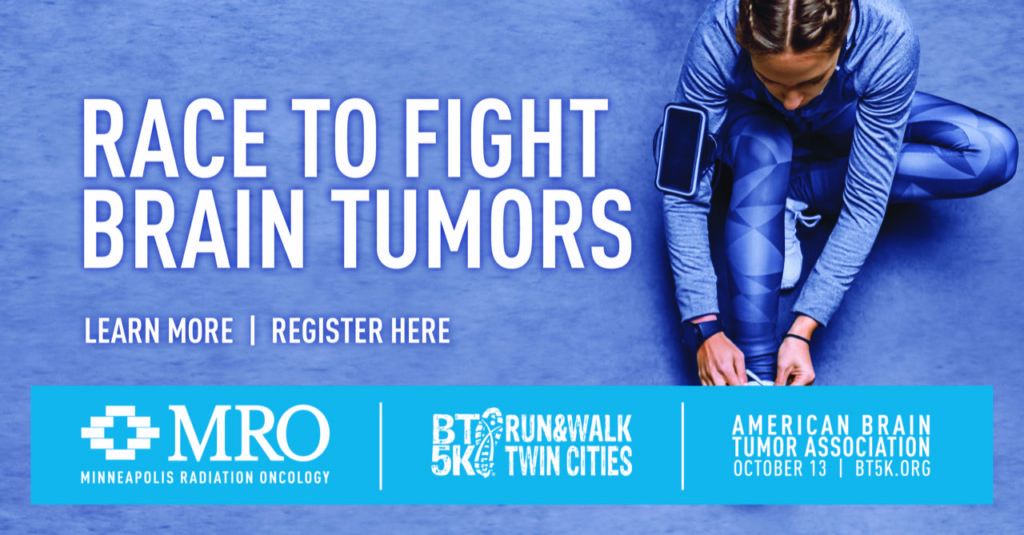 DR. SPERDUTO TALKS ABOUT BRAIN TUMORS ON WCCO 4 NEWS AT NOON SHOW
Dr. Paul Sperduto, MRO Radiation Oncologist and Director at MRO | Ridgeview, spoke live on the WCCO 4 News at Noon Show on Tuesday, September 18. Dr. Sperduto was promoting MRO's sponsorship of the October 13 Breakthrough for Brain Tumors Run & Walk and discussed the breakthroughs in brain tumor research and treatment advancements.
Dr. Sperduto explained the importance of understanding treatment options and the role of radiation therapy. "Cancer patients are in the fight of their lives and depend on their doctors to recommend the best possible treatment for their diagnosis with the least possible disruption to their lives."
To see Dr. Sperduto's interview on WCCO 4 News at Noon Show, click here.
About Dr. Paul Sperduto and Minneapolis Radiation Oncology
Dr. Sperduto is the Director of Minneapolis Radiation Oncology at MRO Ridgeview Regional Therapy Center in Waconia. He joined MRO in 1993.
His clinical practice focuses on using radiation therapy for a wide range of cancers, with a particular interest in brain tumors. Dr. Sperduto is nationally recognized for his leadership in the advancement of radiation oncology technology and treatment protocols, including Gamma Knife Radiosurgery.
Minneapolis Radiation Oncology is the Twin Cities' largest provider of radiation oncology. With more than 11 convenient locations, patients and families can receive treatment close to home.
October
Name
Date
Link
Breast Cancer Awareness Month
Liver Cancer Awareness Month
North Memorial Health Foundation Galla
October 13, 2018
ASTRO 2018 Annual Meeting
October 21-24, 2018
Cayuna Regional Medical Center's Kaleidoscope - A Celebration of Courage
October 23, 2018
American Cancer Society Legacy Ball
October 28, 2018
November
Name
Date
Link
Pancreatic Cancer Awareness Month
Lung Cancer Awareness Month
Stomach Cancer Awareness Month
Carcinoid Cancer Awareness Month
National Radiologic Technology Week
November 4-10, 2018