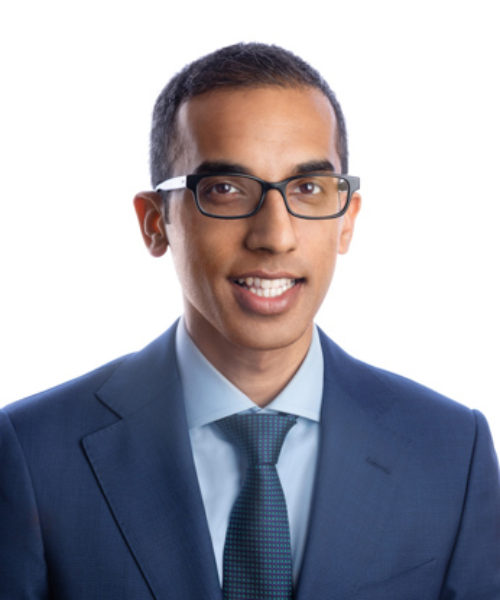 Board Certification
Radiation Oncology
Residency
Medical College of Wisconsin, Milwaukee, WI, Radiation Oncology
Medical School
Southern Illinois University School of Medicine, Springfield, IL
Transitional Year
Presence Saint Francis Hospital, Evanston, IL
Undergraduate School
Emory University, Atlanta, GA, BS, Neuroscience

Radiation oncology allows me to combine my interests in patient care, neuroscience, and medical technology.
Dr. Somu Suppiah is a board-certified radiation oncologist who works closely with medical oncologists, surgeons, other doctors, and the MRO Care Team to carefully develop cancer treatment programs for patients using state-of-the-art radiation therapy protocols. Dr. Suppiah joined MRO in 2018.
Drawing upon his expertise in treating patients who are battling a wide range of cancers, Dr. Suppiah uses his knowledge of MRO's advanced radiation equipment to achieve the best possible outcomes. Dr. Suppiah has conversational ability in Spanish and Tamil. His technical expertise includes the following technology:
External Beam Radiotherapy: Volumetric modulated arc therapy (VMAT), intensity-modulated radiotherapy (IMRT), three-dimensional conformal radiotherapy (3DCRT), Tomotherapy, Orthovoltage.
Linac-based Stereotactic Body Radiotherapy (SBRT): Lung, liver, spine
Stereotactic Radiosurgery (SRS): Gamma Knife.
Brachytherapy: Prostate seed implant (low dose-rate), gynecologic (high dose-rate, MR based), ocular (low dose-rate plaque).

Radiopharmaceuticals: Radium-223, Iodine-131.

Simulation: CT-based, MR-based. Treatment Planning Systems: MIM, Monaco, XiO, Tomotherapy. Image-Guidance Systems and Motion Management: cone-beam CT, four dimensional CT (4D CT) for gated plans, CT-on-rails.
Dr. Suppiah's interests include tennis, cycling, coffee, exploring new restaurants, farmer's markets, orchestra, neuroscience, global health and economics, and current events.
Learn more about what to expect from radiation treatment.
Dr. Suppiah on FAN Dad's Podcast
Leadership and Recognition
2016-2017 Medical College of Wisconsin Department of Radiation Oncology: Safety/QA Subcommittee
2017-2018 Medical College of Wisconsin Department of Radiation Oncology: Education Subcommittee
2017 ABS Prostate LDR/HDR Scholarship
2017 ACRO Travel Grant Award Winner
2016 Medical College of Wisconsin and Affiliated Hospitals Research Award Winner
2008 Summer Undergraduate Research Program at Emory (SURE Fellow)
Professional Memberships
American College of Radiology (ACR)
American Brachytherapy Society (ABS)
American Society of Clinical Oncology (ASCO)
Radiological Society of North America (RSNA)
Association of Residents in Radiation Oncology (ARRO)
American College of Radiation Oncology (ACRO)
American Society for Radiation Oncology (ASTRO)
Research
Case Western Reserve University‒Retrospective project correlating stereotactic radiosurgery dose and latent GI toxicity after SBRT for metastatic abdominopelvic gynecologic cancer.
6/2010-8/2010: Otolaryngology Research
Washington University in St. Louis School of Medicine‒Performed experiments under Jianxin Bao, Ph.D. to determine whether over expression of Nrg-1 can delay presbycusis.
5/2008 – 5/2009: Summer Undergraduate Research Program at Emory University (SURE Fellow).
Research under Subhabrata Sanyal Ph.D. in the Department of Cell Biology, Emory University School of Medicine. Assessed the effects of the transcription factor Adf-1 in regulating dendritic plasticity in Drosophila. Poster received 3rd place in competition.
6/2006 – 8/2006: Pharmacology/Neuroscience Research
Worked with pharmacological and physiological sciences professor Dr. Michael Panneton. Studied the mammalian diving response to elucidate the brainstem circuit involved.
Publications
Mislmani, M., Frasure, H., Suppiah, S., Fabien, J., Lo, S. S., Debernardo, R., & Kunos, C. A. (2014). "Acute gastrointestinal toxicity after robotic stereotactic ablative radiotherapy for treatment of metastatic gynecological malignancies." Future Oncology, 10(2), 241-248. doi:10.2217/fon.13.215
Suppiah, S., Linden, P., Robke, J., Schroeder, C., Yao, M., Machtay, M., & Lo, S. S. (2012). "Sublobar/wedge resection or stereotactic body radiation therapy for stage I marginally operable non-small-cell lung cancer." Expert Review of Anticancer Therapy, 12(11), 1375-1377. doi:10.1586/era.12.123 7/2012 – 9/2012:
Teaching Positions
2014 – 2018: Principles and Practice of Radiation Therapy Course, Invited Lecturer, University of Wisconsin LaCrosse Radiation Therapy Program, Milwaukee, WI
2015 – 2018: Operation Education through Wisconsin Medical Society
2015 – 2018: Medical College of Wisconsin M1 – M3 Career Day