Hunter C. Gits, MD, M.Sc.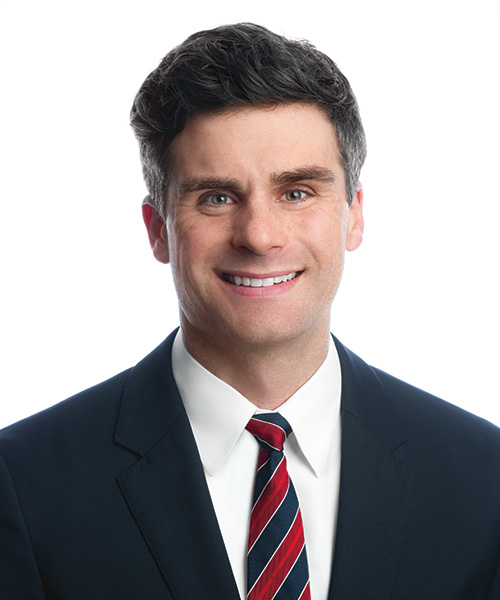 Residency
Mayo Clinic, Rochester, MN
Chief Resident, Department of Radiation Oncology
Internship
St. Mary Mercy Livonia Hospital, Livonia, MI
Medical school
University of Michigan Medical School, Ann Arbor, MI
Graduate school
Master of Science, Neuroscience, Charité – Universitätsmedizin Berlin, Berlin, Germany
Vrije Universiteit Amsterdam, Amsterdam, Netherlands
Undergraduate
Northwestern University, Evanston, IL
Bachelor of Arts, Dual major in Chemistry and Integrated Science Program, Summa Cum Laude

Cancer is a life changing diagnosis, and I am grateful to partner with my patients. I will offer compassionate care and thoughtful, evidence-based treatments that fit with your goals.
As a Minnesota native with a wide range of experience and clinical interests in radiation oncology, Dr. Gits is grateful to serve the Twin Cities community. He completed residency training at Mayo Clinic and medical school at University of Michigan. Dr. Gits is widely published in peer-reviewed publications on topics ranging from breast cancer and brain tumors to pancreatic cancer and sarcoma.
Dr. Gits' philosophy is to serve as a partner to each of his patients. His greatest privilege is to walk with patients on their cancer journeys and provide guidance along the way. He offers the latest treatment paradigms and techniques to increase success and minimize side effects, including intensity modulated radiotherapy (IMRT), stereotactic body radiation therapy (SBRT), stereotactic radiosurgery (SRS), and image guided radiation therapy (IGRT).
When not treating patients, Dr. Gits enjoys distance running, outdoor adventures along the North Shore, and cooking homemade pasta with his wife and daughter.
Learn more about treating your cancer.
Professional Memberships
American Society for Radiation Oncology (ASTRO)
American College of Radiation Oncology (ACRO)
American College of Radiology (ACR)
American Brachytherapy Society (ABS)
American Society of Clinical Oncology (ASCO)
Phi Beta Kappa, Alpha of Illinois Chapter
Publications
Gits HC, Khosravi Flanigan MA, Kapplinger JD, Reisenauer JS, Eiken PW, Breen WG, Welch BT, Harmsen WS, Olivier KR, Park SS, Garces YI, Hallemeier CL, Merrell KW, Ashman JB, Schild SE, Grams MP, Lucido JJ, Shen KR, Cassivi SD, Wigle D, Nichols FC, Blackmon S, Tapias LF, Callstrom MR, Owen D. Sub-Lobar Resection, Stereotactic Body Radiation Therapy, and Percutaneous Ablation Provide Comparable Outcomes for Lung Metastasis-Directed Therapy. Chest. Under review.
Kowalchuk R, Mullikin TC, Breen W, Gits HC, Florez M, De B, Harmsen WS, Rose PS, Siontis BL, Costello BA, Morris JM, Lucido JJ, Olivier KR, Stish B, Laack NN, Park S, Owen D, Ghia AJ, Brown PD, Merrell KW. Development and validation of a unifying pre-treatment decision tool for intracranial and extracranial metastasis-directed radiotherapy. Front Oncol. 2023; 13:1095170. doi: 10.3389/fonc.2023.1095170.
Gits HC, Dozois EJ, Houdek MT, Ho TP, Okuno SH, Guenzel RM, McGrath LA, Kraling AJ, Johnson JE, Lester SC. New School Technology Meets Old School Technique: Intensity Modulated Proton Therapy and Laparoscopic Pelvic Sling Facilitate Safe and Efficacious Treatment of Pelvic Sarcoma. Adv Radiat Oncol. 2022 Jun 28;7(6):101008. doi: 10.1016/j.adro.2022.101008.
Gits HC, Tang AH, Harmsen WS, Bamlet WR, Graham RP, Petersen GM, Smyrk TC, Mahipal A, Kowalchuk RO, Ashman JB, Rule WG, Owen D, Neben Wittich MA, McWilliams RR, Halfdanarson T, Ma WW, Sio TT, Cleary SP, Truty MJ, Haddock MG, Hallemeier CL, Merrell KW. Intact SMAD-4 is a predictor of increased locoregional recurrence in upfront resected pancreas cancer receiving adjuvant therapy. J Gastrointest Oncol. 2021 Oct;12(5):2275-2286. doi: 10.21037/jgo-21-55.
Speers C, Murthy VL, Walker EM, Glide-Hurst CK, Marsh R, Tang M, Morris EL, Schipper MJ, Weinberg RL, Gits HC, Hayman J, Feng M, Balter J, Moran J, Jagsi R, Pierce LJ. Cardiac Magnetic Resonance Imaging and Blood Biomarkers for Evaluation of Radiation-Induced Cardiotoxicity in Patients With Breast Cancer: Results of a Phase 2 Clinical Trial. Int J Radiat Oncol Biol Phys. 2021 Sep 9:S0360-3016(21)02732-2. doi: 10.1016/j.ijrobp.2021.08.039.
Kowalchuk RO, Lester SC, Graham RP, Harmsen WS, Zhang L, Halfdanarson TR, Smoot RL, Gits HC, Ma WW, Owen D, Mahipal A, Miller RC, Wittich MAN, Cleary SP, McWilliams RR, Haddock MG, Hallemeier CL, Truty MJ, Merrell KW. Predicting Adverse Pathologic Features and Clinical Outcomes of Resectable Pancreas Cancer With Preoperative CA 19-9. Front Oncol. 2021 May 11;11:651119. doi: 10.3389/fonc.2021.651119.
Gits HC, Anderson M, Stallard S, Pratt D, Zon B, Howell C, Kumar-Sinha C, Vats P, Kasaian K, Polan D, Matuszak M, Spratt DE, Leonard M, Qin T, Zhao L, Leach J, Chaney B, Escorza NY, Hendershot J, Jones B, Fuller C, Leary S, Bartels U, Bouffet E, Yock TI, Robertson P, Mody R, Venneti S, Chinnaiyan AM, Fouladi M, Gottardo NG, Koschmann C. Medulloblastoma therapy generates risk of a poorly-prognostic H3 wild-type subgroup of diffuse intrinsic pontine glioma: a report from the International DIPG Registry. Acta Neuropathol Commun. 2018 Jul 26;6(1):67. doi: 10.1186/s40478-018-0570-9.
Gits HC, Lester SC, McGrath LA, Martenson JA. Complete response of pleural effusions caused by extramedullary hematopoiesis to low-dose, single fraction palliative radiation therapy: Case report and literature review. Adv Radiat Oncol. 2018 May 25;3(3):463-466. doi: 10.1016/j.adro.2018.04.012.
Gits, HC. (2016). Relating Connectivity and Graph Analysis to Cognitive Function in Alzheimer's Disease. Michigan Journal of Medicine. 2016 May;1(1):45-65. doi: 10.3998/mjm.13761231.0001.111.
Neeb L, Bastian K, Villringer K, Gits HC, Israel H, Reuter U, Fiebach JB. No microstructural white matter alterations in chronic and episodic migraineurs: a case-control diffusion tensor magnetic resonance imaging study. Headache. 2015 Feb;55(2):241-51. doi: 10.1111/head.12496.
Kraus JM, Gits HC, Silverman RB. High yielding allylation of a chiral secondary alcohol containing base sensitive functional groups. Tetrahedron Lett. 2012 Mar 14;53(11):1319-1322. doi: 10.1016/j.tetlet.2011.12.120.