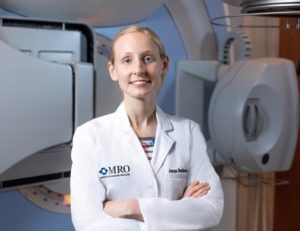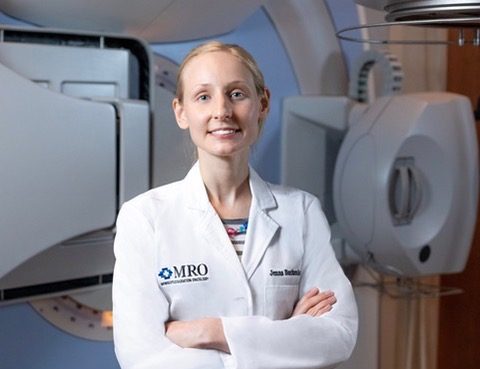 Minneapolis Radiation Oncology now provides high-dose, high-precision, Stereotactic Body Radiotherapy (SBRT/SABR) at its clinic in the St. Francis Cancer Center in Shakopee. This technology – which shortens treatment times and improves outcomes – diminishes the risk of side effects by exposing less normal tissue to radiation.
"Providing access to state-of-the-art radiation therapy is our mission." says radiation oncologist Dr. Jenna Borkenhagen, "This investment at MRO St. Francis demonstrates our commitment to serving cancer patients in the Southwest Metro. Many people here think they have to travel downtown, or even further, in order to receive advanced radiation therapy treatments. As the Twin Cities leading radiation oncology specialty group with 11 locations, MRO delivers the treatment patients need, close to home."
Stereotactic Body Radiotherapy (SBRT), also known as Stereotactic Ablative Radiotherapy (SABR), uses many precisely focused radiation beams to treat tumors. SBRT treatment usually involves one to five sessions. MRO Physicist, Mariajose Bedoya, MS, explains, "SBRT is commonly used to treat tumors in the lungs, spine, and liver, as well as lymph node or other soft tissue regions. We use an imaging guided radiotherapy system (IGRT) to target high doses of radiation to the affected area. This means there's very little damage to the surrounding healthy tissue."
The MRO linear accelerator has the ability to track motion of tumors during the respiratory cycle, known as 4D imaging, providing additional information to enable precise targeting. Because precision is absolutely critical, MRO also invested in a surface-guided imaging system called VisionRT®, which tracks the skin surface and compares it to the ideal position, down to less than a millimeter.   
"Our technology makes it easier and more comfortable for patients to remain in the right position during treatment", adds Dr. Jenna Borkenhagen, MRO Radiation Oncologist. "For us, it's very exciting to welcome this new technology at our treatment center in Shakopee. Now patients and their families can feel confident they're getting the treatment they need with the least amount of disruption to their lives. This results in less stress and smoother recovery."
The MRO therapy center is conveniently located at St. Francis Cancer Center, 1475 St. Francis Ave, in Shakopee.