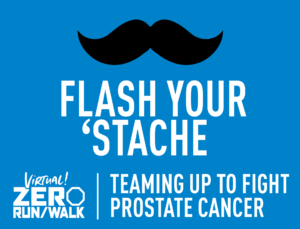 Minneapolis Radiation Oncology and Minnesota Urology have teamed up to raise awareness for prostate health, as sponsors of the 2020 Virtual Zero Run/Walk for Prostate Cancer on Saturday, September 12.
Prostate cancer is the most common cancer in American men, other than skin cancer. But in most cases can be cured with early detection.
Did you know, 1 in 9 men will be diagnosed with prostate cancer during his lifetime? We're working to get that number down to zero. But we can't do it without your help.
Register for the Virtual Zero Run/Walk on September 12. Team members that donate in support of prostate patients during COVID-19 will get a FLASH YOUR 'STACHE mask. Join Virtual Team FLASH YOUR 'STACHE now, it's free.
Share your mustache photos and help us spread the word by tagging Minneapolis Radiation Oncology #flashyourstache. Or email your mustache photos to info@mropa.com.
Register for Virtual Zero Run/Walk now. Or make a donation. And join us. For your father. For your brother. For your husband. For yourself.
For questions or registration information, contact Becky Symth, bsmyth@mropa.com.